Overview
Mark Riedl, MD, MS, discusses how to facilitate earlier identification of patients with hereditary angioedema (HAE) through key characteristics and triggers that differentiate it from other forms of angioedema.
Watch the presentation at your own pace.
Download slides to your library.
Read the activity transcript.
Content Areas
Clinical presentation
Diagnostic strategies
Underlying causes and triggers for acute attacks
On-demand, acute therapy
Short- and long-term prophylactic treatments
Target Audience
This activity was developed for primary care physicians and other health care professionals who have an interest in angioedema.
This educational activity is supported by an independent medical educational grant from Shire.
Faculty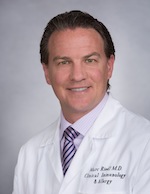 Marc Riedl, MD, MS
Professor of Medicine
Division of Rheumatology, Allergy & Immunology
Clinical Director
US HAEA Angioedema Center
University of California, San Diego
San Diego, California