Overview
Leonard Calabrese, DO, and Edward Li, PharmD, MPH, BCOP, discuss how to interpret the efficacy and safety data for biosimilar products, and the implications of biosimilars for clinical practice.
Watch the presentation at your own pace.
Download slides to your library.
Read the activity transcript.
Content Areas
Pharmacoeconomic impact
Burden of evidence
Interpreting clinical evidence
Practice implications
Target Audience
Rheumatologists, oncologists, dermatologists, gastroenterologists, nephrologists, pharmacists, and other clinicians who currently use or may consider using biosimilars in clinical practice.
This educational activity is supported by an independent medical educational grant from Pfizer.

Leonard Calabrese, DO
Professor of Medicine
Cleveland Clinic Lerner College of Medicine
Director, RJ Fasenmyer Center for Clinical Immunology
Cleveland Clinic
Cleveland, Ohio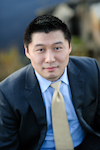 Edward Li, PharmD, MPH, BCOP
Associate Professor
Department of Pharmacy Practice
University of New England College of Pharmacy
Portland, Maine